By Laura J. C | September 1, 2018
Source: Estero Life Magazine
Flipper's on the Bay, the waterfront restaurant of Lovers Key Resort, delivers several delightful surprises. First, there is no indoor seating at this cozy, open-air eatery. Second, the food is much more sophisticated than the casual atmosphere suggests. And third, the Captain's List offers a stunning selection of elite wines you'd be hard pressed to find elsewhere.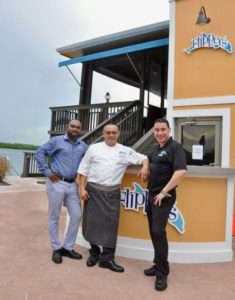 Flipper's GM Ajan Sathan, Chef Juan Cruz and Sommelier Mladen Stoev. The success of Flipper's is owed to the camaraderie of a terrifically talented trio: General Manager Ajan Sathan, Executive Chef Juan Cruz and Sommelier Mladen Stoev. Their genuine friendship and mutual respect, along with their amazing talents, manifest in a top quality dining experience that's not only tasty but fun for guests and staff alike.
Chef Cruz is a native of El Salvador who came to America "with a suitcase and a dream" while fleeing from the Salvadoran Civil War. He has honed his impeccable culinary skills over the last two decades, having trained under two internationally renowned chefs: Wolfgang Puck and Thomas Keller (both of whom he still calls regularly). Since coming to Flipper's six years ago, Chef Cruz has substantially elevated the level of cuisine. Several dishes incorporate flavors from his heritage. For instance, he substitutes the expected potato side with a yucca cake as an accompaniment to the Prime Filet.
Beverage Manager Mladen Stoev is one of the few "advanced" sommeliers in the region. This means he has achieved the second highest level of certification with the Court of Master Sommeliers, which involves a grueling, three-part examination that few are invited to take and even fewer pass. His connections are responsible for bringing in master sommeliers (of which there are only 249 worldwide) to the Naples Winter Wine Festival each year.Flipper's GM Ajan Sathan, Chef Juan Cruz and Sommelier Mladen Stoev
To start the evening, Stoev poured us Charles Heidsieck Brut Reserve, a French champagne, "to prepare the palate." And the wine selections got successively more exciting from there. True wine enthusiasts will want to visit Flipper's on Monday or Tuesday when the sommelier is there, or call to schedule a wine dinner. Stoev will expertly and enthusiastically answer any questions about selections on the elite "Captain's List." There's also an exclusive collection of fine bourbons from Buffalo Trace Distillery.
"You have to have connections who have connections to get these," says General Manager Sathan, who also has training as a sommelier.
Sathan, a native of South Africa, and Stoev, who hails from Bulgaria, formerly worked together at the four-star Marco Beach Ocean Resort. The general manager didn't want to come to Flipper's without bringing his superstar sommelier, who also serves as beverage manager at Bay Colony Golf Club. Chef Cruz completes the terrific trio. All three are jovial as well as knowledgeable. They work together harmoniously with only the occasional friendly jabs about the chef being a "diva."
The open-air setting is filled with tropical tunes, creating a casual dining atmosphere where dolphins and pelicans are common sightings. Thankfully, this does not mean sloppy service or subpar food. Flipper's on the Bay delivers an outstanding dining experience through the caliber of its cuisine and the uniqueness of its wine list, paired with outstanding service.
"Our goal is for you to have the best time of your life here," says Sathan. "Hospitality runs through our veins."
———
Tuna Ceviche with Zind-Humbrecht Riesling
Flipper's tuna ceviche starts with the "freshest of the fresh" sushi grade tuna, chopped at the time of ordering. It's topped with avocado relish and sesame seeds and drizzled with Mae Ploy chili sauce. The high acidity of Domaine Zind-Humbrecht Riesling make it the perfect pairing for this seafood appetizer.
Scallop Duo with Arnot-Roberts Chardonnay
Tender, meaty, diver sea scallops are pan seared and served over celery root puree, then drizzled with a creamy, blood orange-pickled ginger beurre blanc. This scrumptious appetizer is paired with a refined, Napa Valley chardonnay, Arnot-Roberts "Watson Ranch."
Taste of the Bay with Kistler Chardonnay
This "signature" pasta dish is a seafood lover's dream, offering house-made fettuccine topped with lobster claw meat, jumbo shrimp and diver sea scallops in a delectable basil pesto cream sauce incorporating pear tomatoes, shallots and bacon. It's perfectly paired with the richness of Kistler Vineyard Chardonnay, a rare and highly sought wine from the "Captain's List."
Flipper's Famous Oscar & Sea Bass with Kosta Browne Pinot Noir
There's so much going on in this complex dish staring center-cut White Miso Chilean Sea Bass marinated in Japanese citrus and soy and served "Oscar style" over herbed, scalloped potatoes and roasted vegetables — all topped with lump crab meat. It's drizzled with creamy bearnaise sauce (similar to hollandaise) and savory veal glaze. Just when you think it can't get any better, take a sip of Kosta Browne Pinot Noir, a single vintage wine produced on the Sonoma Coast.
Prime Filet with Chateau Lynch-Bages Cabernet
This perfectly prepared, eight-ounce filet is topped with crispy onion rings and served over mozzarella jalapeño yucca cake and vegetables. The unique yucca cake is crispy on the outside, but soft on the inside and oozing with cheese. This entree is best paired with a fine, red wine such as Chateau Lynch-Bages Cabernet, imported from the Bordeaux region of France.
Creme Brûlée with Graham's Tawny Port
Flipper's creme brûlée is made classically with real vanilla beans and Grand Mariner liqueur, topped with caramelized sugar. This sweet ending is enhanced by a top dessert wine; Graham's Tawny Port, wood-aged for 20 years, is rich and smooth with a fruity, nutty bouquet.