By: Laura Tichy-Smith, Special to Coastal Life (The News-Press)
Click here for full article on News-Press.com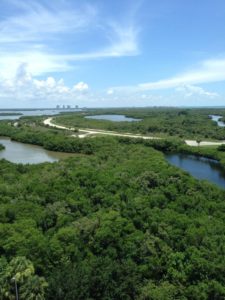 The snowbirds don't know what they're missing when it comes to the best time to hit the Southwest Florida beaches. Most head north before the Gulf waters have had a chance to warm to optimal swimming temperatures. Lovers Key/Carl E. Johnson State Park, with its 1,616 acres providing two-and-a-half miles of undeveloped beachfront as well as back bays, provides an ideal place to enjoy the finest that summer has to offer in Florida.
Located on four barrier islands situated between Fort Myers Beach and Bonita Springs, Lovers Key Park offers many personalities. A visit can be about a trip to the beach, but it can also be about hiking, biking, fishing, nature photography, picnicking or back bay kayaking, canoeing and stand-up paddleboarding. It can also be about an upscale dinner or a stay at the nearby boutique resort or a voyage made to the park aboard your own boat. It can even be about a wedding or family reunion in the beachfront gazebo.
"I think this time of year is great for locals because it's not as busy and you have more of the park to yourself, plus you can jump in the water and cool off," said Katie Moses, a park service specialist. "I like to go in the morning to walk around because it's cooler, and then there's the sea breeze in the afternoon. A lot of people don't realize we have a trail system. We have one-and-a half and two-and-a-half mile trails. I do them in the cooler mornings, plus the gopher tortoises are active this time of year."
The park's big draw in summer is the white sand beach, which was renourished last October and is now 300 feet in width. The beach is unique in Southwest Florida in that it is secluded on the far outer island, the one actually named Lovers Key, so it is two islands away from Estero Boulevard, the main road. One of the more popular ways to reach the beach is via the park tram. It loops every 15 minutes between the hours of 9 a.m.-4:30 p.m. from the parking area inside the main park entrance to the shoreline. The tram crosses two bridges on the way to the southern end of the beach, giving visitors a chance to view the mangrove estuary habitat that draws so much wildlife to the park.
"This is one of my favorite places in Southwest Florida," Moses said. "Come ride the beach tram. When it takes you out over the last bridge, with the vista, it really hits you that you are at the beach."
Near the covered tram shelter on the beach, the park features a shower house and a gazebo that is available to rent for events such as weddings or family reunions. The south beach also features Hurricane Charley's Hideaway, a bamboo-covered snack shack that also offers beach chair and umbrella rentals and beach necessities for purchase, such as towels, toys, sunscreen and sunglasses. The snacks are basic — heated hot dogs and burgers, chips, soft drinks and ice cream — but they hit the spot without having to leave the beach. For more substantive and upscale rations, or for alcoholic libations, Flipper's on the Bay awaits at neighboring Lovers Key Resort.
The boutique resort and restaurant sit across Estero Boulevard from the park's small, northern access parking lot in view of the Big Carlos Pass bridge. Serving breakfast, lunch and dinner, the open-air eatery with a bayfront view serves many chef's signature dishes and favors seafood. Breakfast dishes run $9-$16, lunch $10-$17 and dinner $17-$34. It also offers a full bar featuring signature and frozen tropical drinks that run $8-$15.
The high-rise, all-suites resort has 50 of its 100 units available through its rental program, so it's a very exclusive and secluded place to stay. All units feature a king-sized bed, a queen-sized sleeper sofa, a balcony with a water view and a full or galley kitchen, depending upon the type of unit. During the off-season, the resort offers a Florida resident special that can bring the nightly price down to as low as $137 per night, depending upon the date and unit type. Jeffrey Bullock, the general manager of the resort, said that complimentary hot breakfast from a prix fixe menu is also included for resort guests staying between May and mid-December, excluding holidays. He also said the resort offers complimentary late checkout on Sundays during the off-season as well as an attractive Sunday stay-over rate to encourage guests to make it a three-day weekend.
"It's a luxurious property," Bullock said. "We're surrounded by natural habitat, with the manatees and birds, and that helps guests build memories. It's a very active channel because the channel is full of fish. We offer personalized service because we can visit with our guests and cater to them because we're on a smaller scale. Guests return for multiple visits during the year. Our restaurant and pool as amenities provide the complete resort experience."
For visitors who seek more of an outdoor adventure than lolling on the beach or sipping rum punch with a bay view, the park's concessionaire, Lovers Key Adventures & Events, offers bicycles, kayaks, canoes, pedal boats and stand-up paddleboards for rent. Guided kayak tours led by coastal naturalist and photographer Stephen Denmark are also available by reservation.
"This is one of the densest ecosystems in the world — the mangrove root estuary," Denmark said. "I bring a camera and email those photographs to the tour guests. We got amazing pictures of dolphins and manatees today. For those who want to, I get them out and muddy in the mangrove swamp. I've been doing the tour for almost three years. Everything I learned about the mangroves started in school, but then I learned more on my own. Being out in the wild is my favorite thing in the world."
The park also offers an ideal location for a relaxing day of fishing. Across Estero Boulevard from the main park entrance, the bait shop and boat launch ramp open at 6:30 a.m. daily, before the rest of the park. Boat launching and parking are included free with the $2 per person limited-area admission fee to this bayside section of the park. The shop stocks most everything boaters would need for a day of fishing, along with advice about the local waters. Kayaks and canoes are also available at this location as well, and the back bay provides opportunites for wildlife watching and photography in addition to fishing.
"Summer's a great time to see the wildlife because there are fewer people, and you see manatees in our canals because in the winter they leave to go to the power plant," Moses said, "and the lower (summer) tides bring in more birds."
So whatever the flavor of outdoor fun, adventure opportunities for year-round residents abound at Lovers Key State Park. It's a little reward for sticking it out through the summer heat and humidity.
Connect with this writer: @LauraTichySmith (Twitter)
If you go:
Lovers Key/Carl E. Johnson State Park 
When: 8 a.m.-sundown daily (bait shop and boat ramp open at 6:30 a.m.)
Cost: $8 per vehicle (2-8 people); $4 single-occupant vehicle; $2 pedestrian or bicyclist
Rangers' station: 463-4588; floridastateparks.org/park/Lovers-Key
Beach equipment, boat and bike rentals and guided tours: 765-7788; loverskeyadventures.com
Bait shop: 463-5990
Suggested: Beach chair or blanket, sunscreen, sun hat, insect repellent, picnic cooler, camera, refillable water bottle
Note: Dogs aren't allowed on the beaches at Lovers Key, but the official Lee County Dog Beach is located just south of the park. Alcohol isn't allowed in the park, except for that served at private functions, such as weddings, by vendors contracted through Lovers Key Adventures & Events.
Getting to the park
By land: 8700 Estero Blvd., Fort Myers Beach
By sea: The four islands of the park are located between Big Carlos Pass and New Pass.
By public transit: Lee Tran offers bus service to Lovers Key on route 400 (beach trolley) from the north and route 150 from Bonita Springs. The bus stop is almost a half-mile walk from the beach tram pickup, so either pack light and rent items such as beach chairs, or load your bicycle on the front of the bus. See rideleetran.com for more information.
Weddings at Lovers Key State Park
Who: Lovers Key Adventures & Events
Info: 765-7788; loverskeybeachweddings.com
Lovers Key Resort and Flipper's on the Bay restaurant
By land: 8771 Estero Blvd., Fort Myers Beach
By sea: Enter Big Carlos Pass, go under the Estero Boulevard bridge and the restaurant is on the south side of the channel. Anchor out and swim or wade in — no dock.
Info: 765-1040; loverskey.com
Note: Check website or call for off-season specials, such as Florida resident rates.